Join Us!
Exciting, challenging, rewarding – there is no one word to describe participating in CCNC.You'll learn new skills, but it will take sweat: this program is designed to be extremely rigorous. You will complete conservation service projects and learn many skills through experience. You will meet great people and finesse teamwork skills to push through times you don't see eye-to-eye. You're joining a long legacy of working hard for the environment and community, and giving something back. We're glad you're interested in joining us.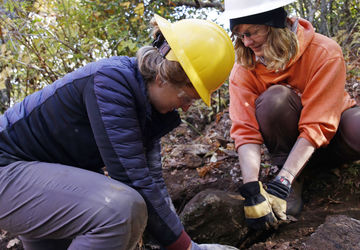 Position Types
To learn more about our specific programs, follow the links below:
See Conservation Corps North Carolina on the ground!
Check out our videos below, or see Conservation Legacy's Youtube channel for a snapshot of corps life across the country!
WHO WE SERVE
Conservation Legacy emphasizes the recruitment and engagement of diverse teams and individuals who learn from each other and their projects in a supportive environment. In selecting participants, Conservation Legacy encourages all types of diversity including, but not limited to; race, ethnicity, gender, sexual orientation, gender identity, age, social-economic, and disability. Conservation Legacy also emphasizes the engagement of local individuals who represent the communities in which they serve. Conservation Legacy intentionally searches for funding sources and program options to support the goal of offering experiences to a wide range of participants.
These programs are available to all, without regard to race, color, national origin, gender, age, religion, sexual orientation, disability, gender identity or expression, political affiliation, marital or parental status, genetic information, and military service. Where a significant portion of the population eligible to be served needs services or information in a language other than English, Conservation Legacy shall take reasonable steps to provide written material of the type ordinarily available to the public in appropriate languages.
Conservation Legacy is committed to equal access to programs, facilities, and employment for all persons. It is the policy of Conservation Legacy to maintain an environment free of harassment and discrimination against any person based on age, race, color, ancestry, national origin, religion, creed, military service, sexual orientation, gender identity, marital or family status, pregnancy, pregnancy-related conditions, physical or mental disability, genetic information or political ideas. Discriminatory conduct and harassment, as well as sexual misconduct and relationship violence, violates the dignity of individuals, impedes the achievement of Conservation Legacy's mission, and will not be tolerated. Visit our Diversity, Equity and Inclusion page to learn more about what we are doing as an organization.