Join Us!
Exciting, challenging, rewarding – there is no one word to describe participating in CCNC.You'll learn new skills, but it will take sweat: this program is designed to be extremely rigorous. You will complete conservation service projects and learn many skills through experience. You will meet great people and finesse teamwork skills to push through times you don't see eye-to-eye. You're joining a long legacy of working hard for the environment and community, and giving something back. We're glad you're interested in joining us.
COVID-19 Update: Dear Applicants and Potential Participants,
Our crews and individual placements have always been the foundation and driving force of this organization. The safety of our participants has always been our utmost priority. Since the beginning of the COVID-19 situation, we have activated an Incident Response Team and are working around the clock to monitor and manage the effects of the outbreak. Conservation Legacy and its programs are strictly following guidelines provided by the Center for Disease Control (CDC), the World Health Organization (WHO) and local public health agencies. If you have questions, please don't hesitate to reach out to your program or recruitment staff.
As conditions change, Conservation Legacy policies will evolve—we will post our most recent updates on our website and via social media. Please stay connected for the most up to date information.
We urge everyone to follow CDC and WHO protocols to limit the spread of the virus. We hope that you and your families are well.
In Service,
Conservation Legacy and Program Staff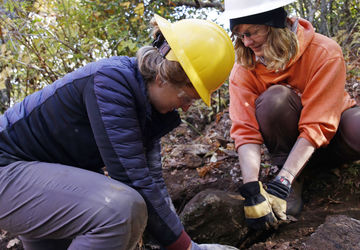 Position Types
To learn more about our specific programs, follow the links below:
See Conservation Corps North Carolina on the ground!
Check out our videos below, or see Conservation Legacy's Youtube channel for a snapshot of corps life across the country!
WHO WE SERVE
The Conservation Corps North Carolina (CCNC) emphasizes the recruitment and engagement of diverse teams and individuals who learn from each other and their projects in a supportive environment. In selecting participants, Conservation Legacy encourages all types of diversity including, but not limited to; race, ethnicity, gender, sexual orientation, gender identity, age, social-economic, and disability.
The Conservation Corps North Carolina also emphasizes the engagement of local individuals who represent the communities in which they serve. CCNC intentionally searches for funding sources and program options to support the goal of offering experiences to a wide range of participants.